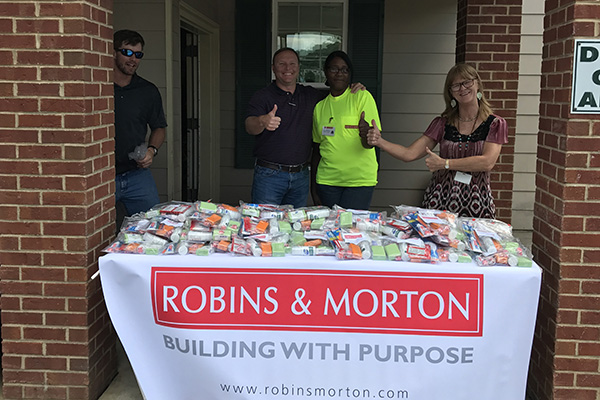 There's a difference between a leader and a manager. For Superintendent Jeff Jones, that distinction extends from supporting his team on the jobsite to empowering them to be involved in the community.
"You can never be in a position of authority until you learn to serve," Jones said. "Learning to be a good servant is a really critical part of leadership."
He's carried that mentality with him to 16 projects, spanning five states, throughout his career. He and his teams often come to new communities as outsiders, but his intention is that it doesn't stay that way.
"We're not just a contractor coming to build a job, we want to leave a lasting impression about who Robins & Morton is, what our story is. We're all about service," Jones said. "Meeting a community need is a great way to get know its people, and they get to know us."
On each of his projects, he works to coordinate a monthly outreach activity where all onsite personnel are invited to participate. Whether it's volunteering at a local rescue mission, serving a children's hospital, or supporting parks and recreation programs. However, some of his team's most pivotal moments have been a result of simple conversations among team members that have evolved into plans for meeting a need, leading to truly powerful, shared experiences.
In one case, while working on a hospital addition in San Antonio, Texas, workers were discussing a local convent and church, The Sisters of Perpetual Adoration. A worker's sister was one of the nine nuns that lived there, and he explained that they ran a daycare. Built in 1927, the facility had some construction needs because of its age, particularly in the daycare area.
Because of the team's established culture of service, they began discussing ways they all could help. Jones quickly facilitated a workday to spruce up the space. While there, electrical trade contractor Enterprise Electric installed 340 LED lamps in the church, helping the facility to boost its energy savings by 60%. The new lamps would also require fewer replacements over time. Robins & Morton built new tables, outdoor seating and other playground equipment for the children to use. HVAC and plumbing trade contractor, Dynamic Systems Inc., replaced a condenser for the walk-in cooler, and repaired both a water heater and walk-in freezer. They also replaced old water fountains with new electric ones.
That's just one of the many examples where Jones was reminded that, although his team's focus is often consumed by the day-to-day labors of building, they share a connection that comes from a deep feeling of responsibility to the community and to each other.
As his life circumstances have changed, his understanding of community engagement has shifted. Seeing its impacts in different ways further solidifies his passion, but he can clearly trace his recognition of the importance of service back to his upbringing, crediting his mom and dad.
"They instilled a sense in me of never forgetting where I came from. You have to work hard and serve others," he said. "I feel like it's my moral obligation."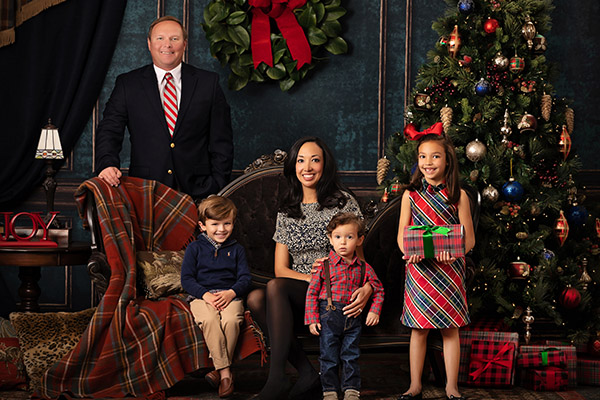 Jones grew up in Hoover, Alabama, but his career took him far beyond the bounds of nearby Birmingham, and the campus of his beloved Auburn University. He's seen the far reaches of Texas, North Carolina, Mississippi, Tennessee and Georgia. Today, he's back in his home state, building a $250 million orthopedic and spine tower for Huntsville Hospital – a landmark project for the health system, and the largest on their campus in four decades. Just like he's left a permanent mark on the built environment of each community where he's lived, he hopes that his teams leave an impact, too.
"People will forever remember you by the things you do, and the way that you make them feel," Jones said. "That's the impression they'll have of you and the namesake you'll leave behind."
No matter how much time passes, he can say with certainty that every place he's been, along with its people, played an instrumental role in shaping who he is today.
"[Everywhere we live] we go to church, my daughter is a girl scout, we play sports," Jones said. "Those communities are forever a part of who we are and will be until I leave this earth."
In honor of April's designation as National Volunteer Month, Robins & Morton invites you take a moment to review their 2019 Community Impact Report to see how the efforts of its people came together to make a difference last year.