Air Force Veteran Finds New Heights in Construction Career
The view from Jon Lambert's office is a little different from others in Virginia's Roanoke Valley.
You may think that Lambert works in a high rise as he sits 240 feet in the air, but his corner office is only about 6 by 4 feet. There's also no elevator to the top. Instead, he climbs more than 220 steps on a series of narrow ladders to begin his day.
Lambert is the tower crane operator at Carilion Roanoke Memorial Hospital's most recent expansion – a 10-story, 500,000-square-foot addition to be called the Crystal Spring Tower. Every day, he is responsible for picking materials up to 22,000 pounds with a surgical precision. However, that accuracy is no coincidence.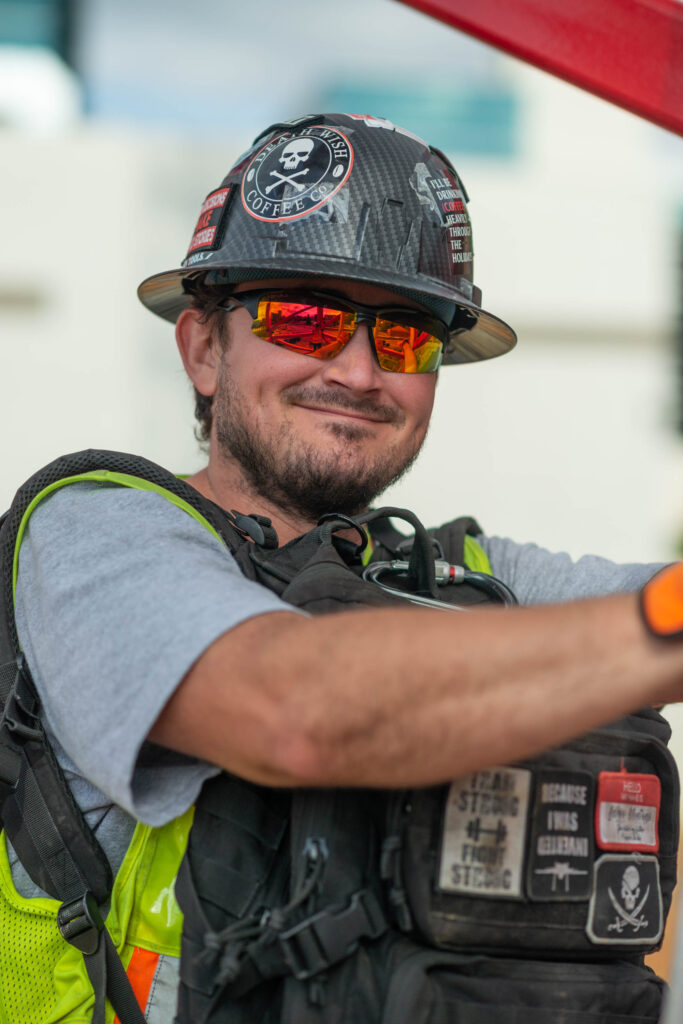 Although his skill with a crane is largely the result of experience and natural talent, Lambert attributes his steady hands and unbreakable concentration to a profound experience in his life: his military service.
From a young age, the military seemed like a viable career path to Lambert. With two veteran grandfathers, a brother in the military, and several enlisted neighbors, he found himself enlisting in the Air Force after earning an Associate's Degree in Computer Programming.
His first posting was within a Tactical Air Control Party (TACP) as an apprentice in 2013. In that role, he was responsible for coordination between aircraft and ground forces. He was passionate about his work with the TACP, but an injury forced him into a new position—one with the medical branch of the Air Force in San Antonio, Texas. While there, he performed a variety of medical duties and assisted in 2,700 hours of surgery – equivalent to nearly 113, 24-hour days.
After six years of service, Lambert was honorably discharged as a Staff Sergeant E5 in September 2019.
Once his enlistment was complete, he began searching for a civilian career. His brother, also a veteran, went to trade school after leaving his military career and earned his certification as a crane operator (CCO). For him, that translated into a lucrative career in the booming oilfields, and Lambert was interested in a similar path for himself.
"I was attracted to the stability of the construction industry," he said. "Growing up, my dad was a master carpenter for residential construction. That, and my brother, showed me that in construction you always a have a job. Especially with a CCO."
Shortly thereafter, Lambert traveled to Dallas, Texas, to earn his commercial driver's license (CDL) and attend crane operator school.
For a while, Lambert worked as an operator for a crane rental company, traveling across the Southeast. His location and the duration of his assignments varied by project —after all, it takes an extremely specialized skill set to operate a crane and it's not often that a company has someone on staff to do so.
However, in 2020, he came across a unique opportunity.
As the joint venture of Robins & Morton and Branch Builds began ramping up to build Carilion Clinic's new Crystal Spring Tower, they needed an operator for the five-year construction project. Robins & Morton Superintendent Josh Farr located Lambert's resume and called him. Although it was several months before Lambert would be needed onsite, he secured the job.
Since mid-June, Lambert drives into South Roanoke every weekday morning and make his ascent to one of the highest points in the city.
"It's a good feeling that the entire jobsite relies on me to get important work done," Lambert said. "But it's also a lot of pressure. If I ever had an accident, I could really hurt someone."
Of the many skills he learned in military, he believes unflappability, candor and the ability to accept constructive criticism helped him transition into his civilian construction career.
"It's second nature for me now to check it, check it and check it again," Lambert said. "When it's time for me to move something, I have absolute tunnel vision on that load."
Although it can be stressful at times, Lambert said that he likes what he does and appreciates the opportunities he's had because of his career in the industry. His advice for anyone considering a construction career is to put safety first and be teachable.
"There are several different ways to learn a job," Lambert said. "Be willing to take criticism and ask the questions. Doing things the right way will save someone's life."