As facility owners place increasing emphasis on speed to market and cost-effective practices in construction, project teams continue to search for creative solutions in methods, materials and new uses of existing building technology. That pursuit is behind the growing adoption of tilt-up concrete construction.
The method – which uses horizontally cast-in-place wall panels that are then lifted into place – is nothing new; the concept has been around for about a century. In fact, tilt-up construction is the norm for warehouse-like structures, offering the desirable advantages of both speed and cost.
However, tilt-up construction is now becoming common on more types of structures, as advancements in architectural finishes and engineering expand its appeal beyond the ubiquitous big-box building.
"Two years ago, we weren't doing tilt-up because our clients weren't using it," Robins & Morton's Structural Resource Manager, Mike Oliphant, said. "Now, we're seeing it used in freestanding emergency departments and medical office buildings, and even in multi-story commercial office buildings."
The onsite casting of tilt-up construction incorporates the benefits of prefabrication with a streamlined process.
"With many other exterior systems, such as precast or glass-and-glazing, they have to be designed, manufactured and shipped before work can start," Oliphant said. "With tilt-up, the materials can be onsite within a few weeks of drawings. In some cases, we can start erecting walls quicker than it takes to have drawings approved for other prefabricated systems."
Of course, time and money aren't the only factors in choosing a construction method. Flat, windowless concrete panels are pragmatic for manufacturing and distribution, but aren't as welcoming to occupants, users and guests. Part of the growing appeal of tilt-up construction is the ability to customize exterior wall finishes during the casting process; the method is no longer dominated by featureless concrete slabs.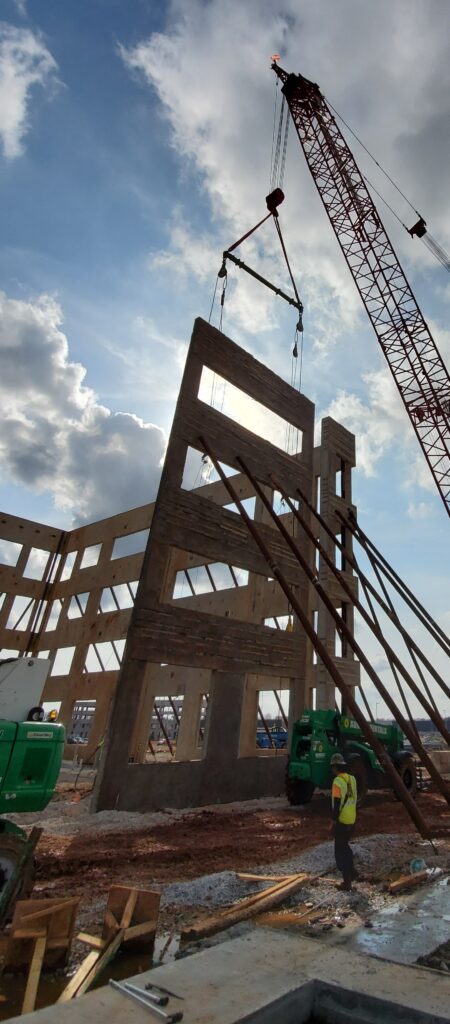 "When we pour the panel, the bottom is the exterior face," Oliphant said. "We can use a form liner to give the panels a creative finish, from something as traditional as brick to textures that mimic tree bark, cast-in shapes and angles, insignia letters or logos. Anything that can be formed out of wood or foam, we can put on the side of your building."
Architectural advancements are also helping expand the use of tilt-up construction, as innovative designers incorporate the precast panels into multi-story structures. Robins & Morton Superintendent Brendan Kenny recently coordinated the installation of 65-foot-tall panels for a four-story commercial office building in Huntsville, Alabama.
Multi-story tilt-up construction is relatively new, and while the concept is the same, the planning grows exponentially more complex as the panels increase in size. In this case, Kenny had to not only contend with the layout of where the panels would be poured and how they would be lifted, but also with the positioning of a 650-ton crane fitted with a 180-foot boom.
"A lot of engineering goes into planning the lifting and bracing. We also collaborate a lot with safety in putting together the plan," Kenny said. "But the advantage is that when you form and erect the panels, you have the wall and the exterior finish. It's a cost-effective skin and structure in one. In two to three months from starting construction, you have something that looks like a building."
The concrete panels also provide a cost-effective way to meet high wind loading requirements, which made tilt-up construction an ideal choice for Fishermen's Community Hospital in Marathon Key, Florida, currently under construction by Robins & Morton. The durable tilt-wall concrete core will contribute to the resilience of the 38,000-square-foot hospital, scheduled for completion in 2021. This approach is also helping shorten the time frame to replace the facility that was wiped out by Hurricane Irma in 2017.
Tilt-up construction also carries other benefits of concrete, including the accessibility of the material and its inherent fire retardance, insulation factor and sound proofing. Of course, it's not for everything. There are practical limits to height, the site has to accommodate both pouring and lifting the panels and the technique works best with rectangular-shaped structures. However, its growing use demonstrates that the industry continues to innovate, including finding new and expanded uses for existing technology.