Women in construction enter the field through diverse paths but share a passion for the industry. Through that passion, the support of their teammates and the confidence they instill in each other, they are changing the industry.
Daniela Torres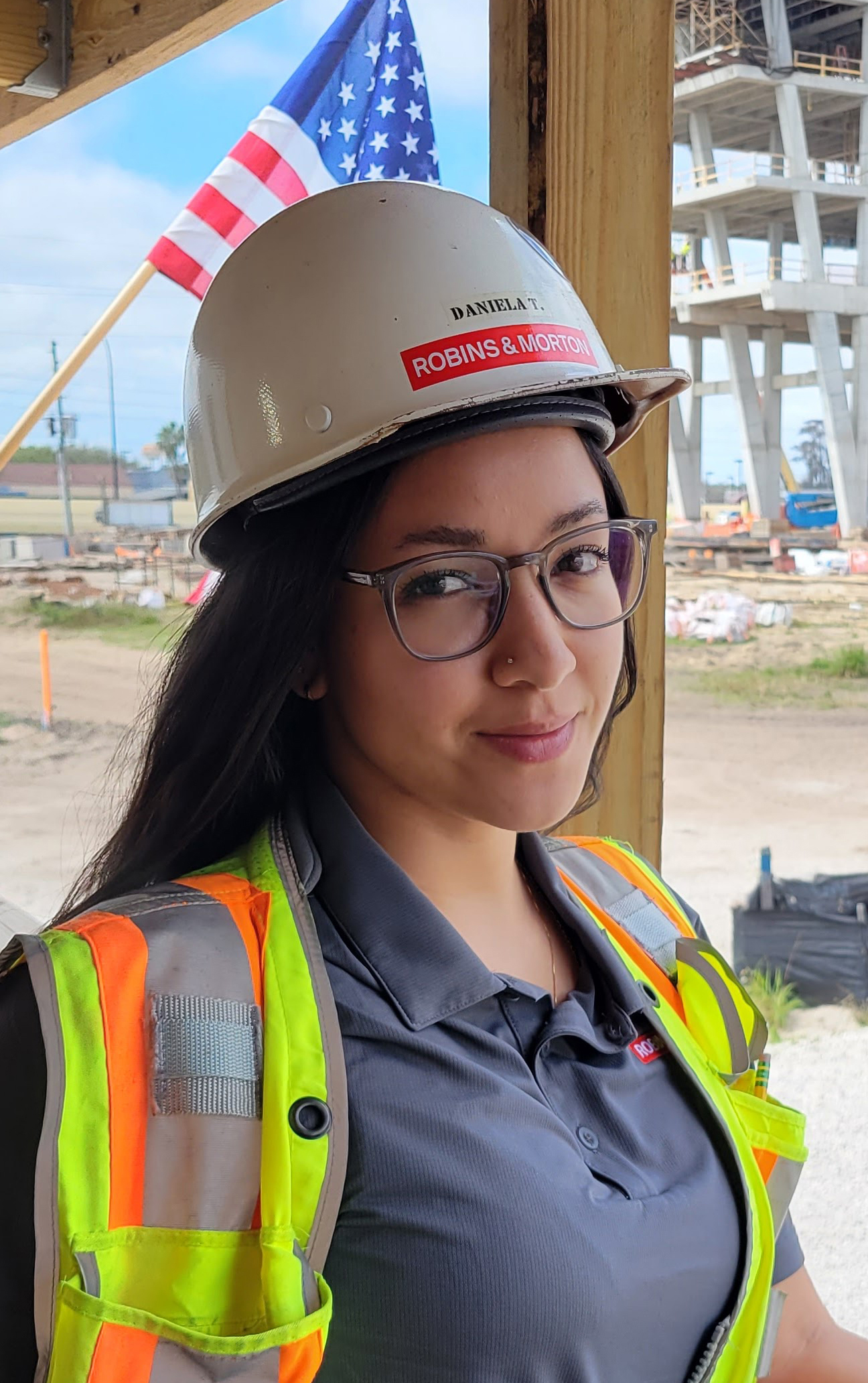 Project Engineer Daniela Torres originally planned to study architecture but found herself drawn to the more nuts-and-bolts aspect of engineering instead.  Her courses at the University of Florida included construction education, pulling her toward the industry.
"I became very interested in the construction process," she said. "You see buildings, but most people don't know what happens behind the scenes. I wanted to be able to say, 'I was part of that. I had my input into that.'"
A job fair helped finalize her decision to move from engineering to construction management. There, she met Robins & Morton's Director of Marketing and Communications Katy Klaproth. Even though the two had different career paths within the industry, Torres said, "Talking to her made me feel very comfortable. It's important for women to support each other."
Torres concluded her education after earning a Bachelor of Science in Engineering from Santa Fe College and a Bachelor of Science in Civil Engineering from the University of Florida. Then she began her career in construction, where she found her place at the jobsite.
"I consider myself an active person," she said. "I liked the idea of being in the field and interacting with trade contractors and learning."
On her first job, there was only one other woman – an intern – but Torres said she seldom thought about that because of the support she received from her coworkers. "I had a really great team and they provided a good support system," she said. "They treated me equal and considered me capable of doing what everyone else was doing."
Elizabeth Duncan
Senior Marketing Coordinator Elizabeth Duncan took an even more circuitous career path into construction – one that took her from an administrative position in the office to project management and finally to marketing.
In college, Duncan studied art and Spanish, graduating from the University of Missouri with a major Global Studies and minors in Spanish and Latin American Studies, with no thought of a career in construction.
After graduation, she moved to Florida to be with family, and accepted a temporary position with a property management company. When that position ended, she was hired as an administrative assistant for a major construction project – a $500 million renovation of the Miami Dolphins stadium.
Duncan said she still isn't sure what a construction company saw in her resume, but she was soon drawing upon her background. Her Spanish language skills proved valuable in the Florida market, but equally valuable, she said, was cultural competence and the ability to communicate with others. Duncan was given increasingly higher levels of responsibility, leading to a promotion to project engineer. The opportunity to help with the punch list at the stadium immersed her further in construction.
With the experience of the Miami Dolphins stadium project behind her, Duncan joined a family-owned general contractor.
"It was another immersion into construction, but at a smaller scale," said Duncan. "I was able to see a project from bid, to winning the job, to preconstruction, through construction and all the way to closeout."
Her responsibilities included estimating, project management and marketing. "I really found my groove in marketing and business development," she said – and that groove ran through construction. She went back to school, taking night classes to get her construction specialist certification.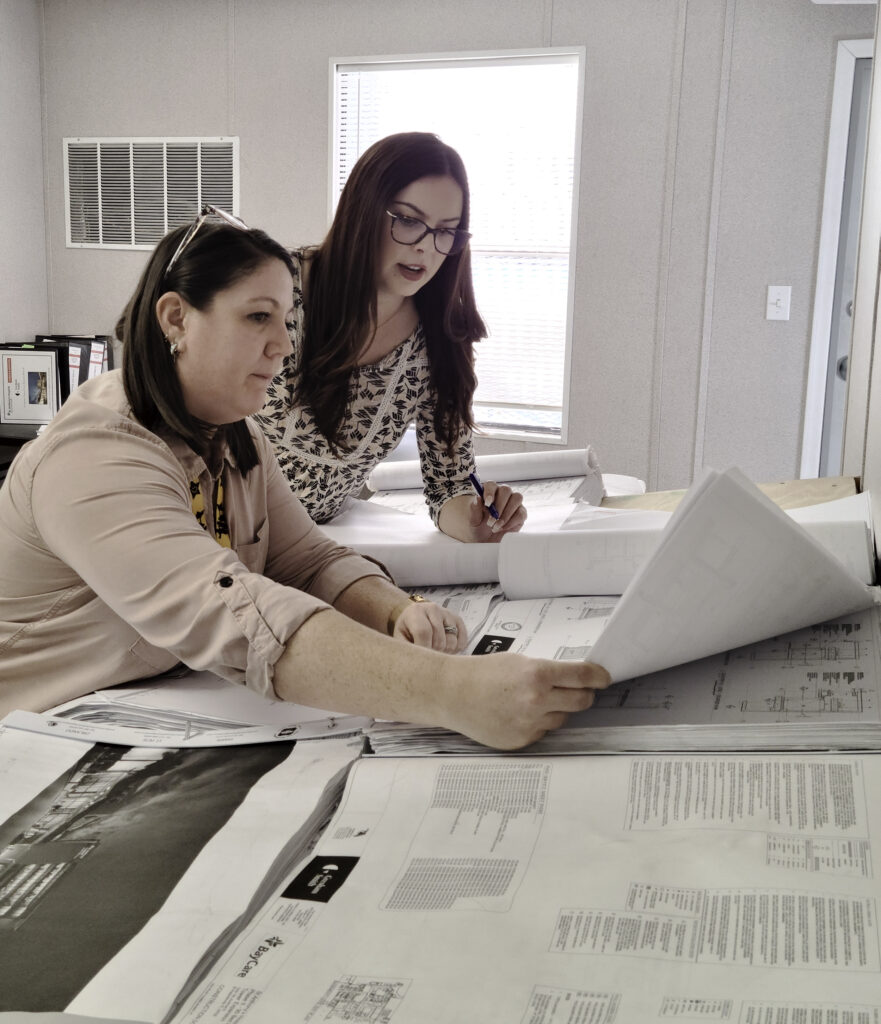 From there, she joined the Robins & Morton marketing team, assisting the sales team with RFP responses. "A lot of pieces had to fall into place to get to where I am," she said.
One of the biggest rewards of her unexpected career in construction, said Duncan, "Is just feeling empowered."
"There's nothing and nobody holding you back," she said. "There is no limit to what you can do. Even without a construction-specific degree, you can learn through experience."
That enthusiasm also led Duncan to become active in local chapters of the National Association of Women in Construction (NAWIC).
"It important for me to help build a community to empower other women," said Duncan. "A lot of times, we're the only women [on a work team] so it's comforting to go to a NAWIC meeting and be surrounded by other women in the same field."
Duncan also credits her managers at all three construction companies for supporting and encouraging her. "You need people to give you opportunities," she said. "It means a whole lot to know they want you to grow personally and professionally. But I also want women to know that they will never be alone in the industry because we have each other."
Jessica Tomaselli
Project Manager Jessica Tomaselli recently became active in the Tampa (Florida) Chapter of NAWIC following Duncan's encouragement. "I've gained such valuable insights from meeting women who have the same shared experiences as me."
When Tomaselli started her career as a Construction Coordinator working on a hospital project, she was sometimes mistaken for a nurse. "I was often the only woman in the room, and the youngest woman," she said. At the same time, she's experienced support from her colleagues. "I've had a great deal of acceptance and help," she said. "A lot of men, especially Gen X, are super helpful. They're excited about women coming up in the industry. They are there to help answer questions and make sure we're being heard."
Tomaselli is passionate about her career, though it's not the path she initially envisioned for herself.
She first earned a Bachelor of Design in Interior Design from the University of Florida. When she graduated in 2009, the economy was just coming out of the Great Recession. Only one person in her graduating class landed an interior design job. The University of Florida Building and Construction School was across the street from her design classes, and since her design degree had already introduced her to the construction program, she went on to earn her Master's in Construction Management.
Another woman in construction, Robins & Morton's Sustainability Manager Jackie Mustakas, steered Tomaselli toward the healthcare construction company, where she found her place. "There's an immediate community impact you can feel when a healthcare facility is completed," she said. Looking back, said Tomaselli, healthcare construction was a natural fit– her mother is a nurse and her father works in residential renovation.
Tomaselli is working under a senior project manager and hopes the mentorship will lead to an opportunity to manage a project on her own. "Everybody needs the support of their coworkers," she said. "It's nice to know that the people you spend a majority of your time with support you."
"With a strong team, you don't have to feel alone," said Torres, who is now a Project Engineer building a data center and corporate office complex. "But it's also important to have that support from other women. It's very important that we be there for other women who in this industry, especially someone who is new to the job.
"It also makes me feel like I'm making a difference," she said.