A normal day for Assistant MEP Manager Michele Ruzinsky is deep within the details of the mechanical, electrical, and plumbing (MEP) scopes of her current project, UHealth at Doral. About half the day, she's tracking progress out on the jobsite that will become a six-story, 160,000-square-foot ambulatory care center. The other half, she's poring over drawings, reviewing and processing submittals, submitting requests for information (RFIs), and assisting with building information modeling (BIM) coordination.
It was only six years ago that Ruzinsky found herself walking toward the Robins & Morton booth at the University of Florida's Rinker School of Construction Management Career Fair, and at first, she wasn't entirely sure what drew her to the event. After all, she was studying mechanical engineering, not construction management. But because her father and brother were engineers for construction companies, she decided she wanted to learn more about the opportunities available. After introducing herself to the team members running the booth, she opted to apply for an internship.
"During my interview, I told them I might be interested in getting my [Professional Engineer license] and asked if there were any engineers I could work with if I came onboard," Ruzinsky said. "So, [MEP Manager] Anik Patel was working in Miami, and they matched us up and sent me off to Miami."
Ruzinsky's first project as an intern was a 92,717-square-foot research center buildout within the Miami Cancer Institute at Baptist Health South Florida. The year prior, Robins & Morton completed the existing building, a 290,000-square-foot, LEED-certified outpatient cancer center with two parking garages and a new central energy plant. Patel, a licensed professional engineer, was overseeing the MEP scope on the project and took Ruzinsky under his wing.
During her internship, she learned everything she could. In addition to shadowing Patel, she sought out the trade superintendents, asked them what they were doing, why they were doing it, and how they planned to get it done.
"They were all really willing to teach me," Ruzinsky said. "The team members in the field are proud of what they do, and they like to share it."
When she took on her first full-time role post-graduation supporting construction of Baptist Health South Florida's 240,000-square-foot Hope Tower in Miami, Ruzinsky noted that her new duties were only an extension of her role as an intern, and she found that she was well-prepared.
"You take on more responsibility for the outcome as a full-time employee, but I got a lot of hands-on experience as an intern," Ruzinsky said. "Anik really became a mentor to me and still is to this day. We keep in close contact, and he'll check in, asking if I need help with anything."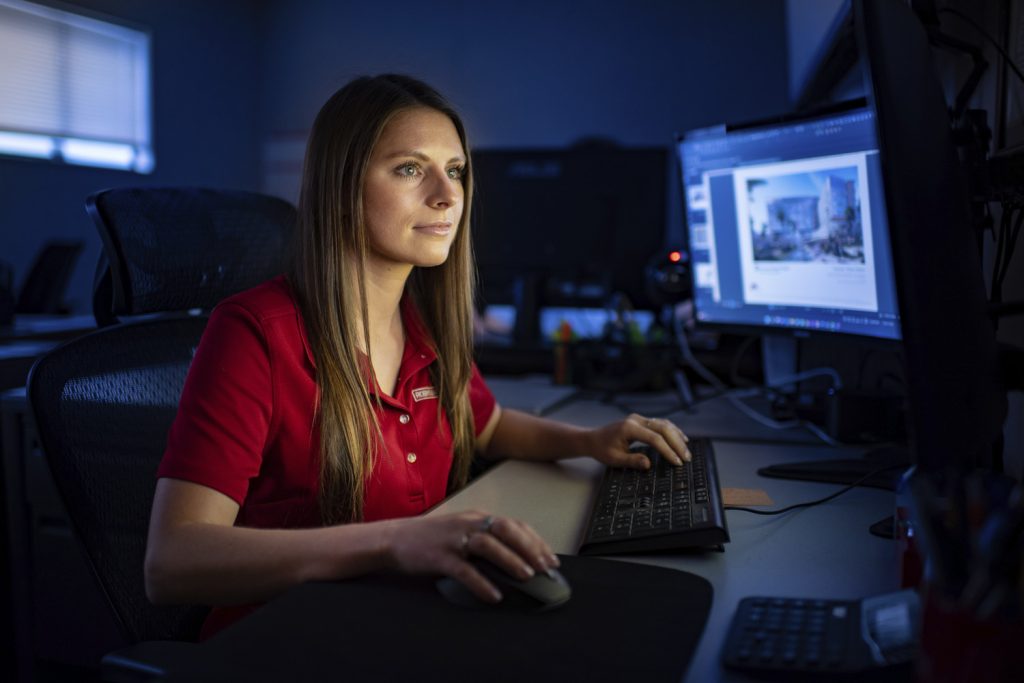 During the next several years, Ruzinsky gained further experience and confidence in her role. After completing the Hope Tower, she worked on the highly complex Joe DiMaggio Children's Hospital four-story vertical expansion, which completed in 2022. That led to her current project – UHealth at Doral.
With the MEP scope accounting for nearly 35 percent to 40 percent of the total cost of a healthcare facility, Ruzinsky's onsite leadership is critical to serving as an interpreter between the construction management team and the MEP trades.
"It helps to have someone onsite with a background in these systems," Ruzinsky said. "I have the knowledge to suggest solutions to challenges we're facing, both from what I learned in school and from experience on the job. For example, I can double-check the airflow calculations for each room and make sure that the air handlers chosen for the project can support them."
In addition to continuing her own growth, Ruzinsky has had the opportunity to pay forward her internship experience by mentoring Florida International University student Shawn Samlal. Samlal is also a mechanical engineering student interested in pursuing a career in construction, and Ruzinsky has shared her day-to-day duties with him over the last several months.
For example, this week Ruzinsky has Samlal tracking ductwork installation in the field by highlighting the installed sections on a ductwork shop drawing. This will help with schedule management and payment applications.
"He's doing good work," Ruzinsky said. "It's the first time I've had an intern that studied mechanical engineering like me. It's been great helping him gain experience with things that make a true difference on the management of this project."