In 1972, The Robins Corporation—now Robins & Morton –constructed the $4 million J.O. Johnson High School in northwest Huntsville, Alabama. In what would translate to a $25 million project in today's economy, J.O. Johnson High School served as a fixture of the Huntsville community and educated the City's students for nearly 45 years before transforming into the Johnson Legacy Center in 2020.
J.O. Johnson High School served as Robins & Morton's gateway into education construction, laying the foundation for decades of work impacting school systems and universities across the Southeast.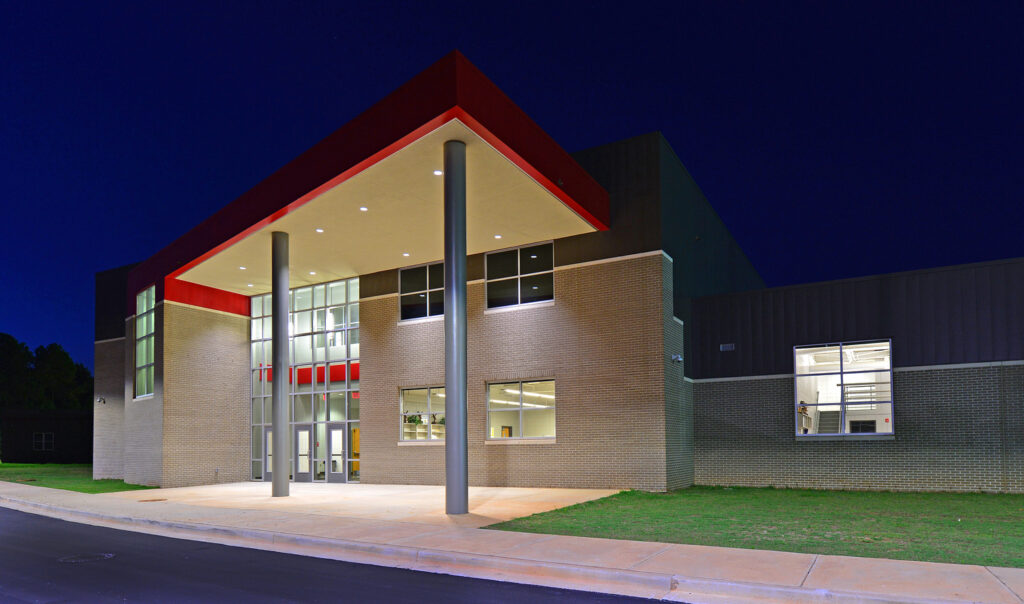 With major projects such as J.O. Johnson High School under its belt, the firm looked toward continued growth within the education sector. However, when the 1970s Recession dramatically slowed major construction projects across the country, Robins found opportunity in numerous smaller projects, including noteworthy renovations of many of Birmingham's high schools – Phillips, Harper, Huffman, Homewood and Mountain Brook, to name a few. The work, while smaller than its first venture, helped Robins weather the recession and further establish its presence in the education sector. In the following years, Robins became the go-to firm for school upgrades.
This success not only led to more work in local school systems, but it also led to higher education projects for institutions including Alabama A&M, Birmingham Southern College, The University of South Alabama, Samford University, The University of Tennessee, The University of North Carolina and, most recently, Wofford College and Auburn University.
Opportunities for Students
From basketball arenas and recreation centers to geoscience laboratories and residence halls, Robins & Morton has left its mark on numerous campuses, building facilities to serve students of all disciplines.
Through the years, the firm's leadership recognized its opportunity for impact went beyond constructing state-of-the-art teaching facilities – turning jobsites into extensions of the classroom.
Mike Thompson, Vice President of Operational Support and Planning at Robins & Morton and former Visitor Industry Professor in Auburn University's McWhorter School of Building Science, recalled numerous occasions where Robins & Morton engaged students in onsite learning opportunities.
"When I started teaching at Auburn, Robins & Morton was building the information technology building, the practice facility, the recreation and wellness center, the kinesiology building and the basketball arena." Thompson said. "I would take my classes through to see the active construction sites and they occasionally participated in activities. One of my classes was able to learn about punch lists by punching out all 9,000 seats in the basketball arena. Another time, they participated in a 'super flush' at the football stadium. It was a great learning opportunity."
Bridging the Gap
Like Thompson's former classes, students rely on hands-on experience to learn their crafts.
This concept drove the design and construction of the Chandler Center for Environmental Studies at Wofford College in Spartanburg, South Carolina.
Wofford College's program integrates sciences, social sciences and humanities, allowing students to study the environment in ways that dovetail with their interests. Likewise, design features in the new Chandler Center for Environmental Studies reflect those disciplines, providing a practical experience of the ideals it intends to teach.
In a design-assist delivery, Robins & Morton partnered with architecture firm McMillan Pazdan Smith and Wofford College to bring that experiential education to the space.
"We worked to design the building as a visible teaching tool for the department," said project architect Mike Goll for McMillan Pazdan Smith. "That means exposing as many of the systems as possible so that they can not only see how a building functions, but also monitor it."
Open to students since fall 2020, the building features 147 solar panels to generate power, and it supports daylighting, natural ventilation, and heat island mitigation to ensure it conveys the importance of reducing expended energy. Aside from its laboratories and classrooms, students are also able to learn directly from the building's rainwater collection system, roof garden, exposed infrastructure, and resource consumption dashboard.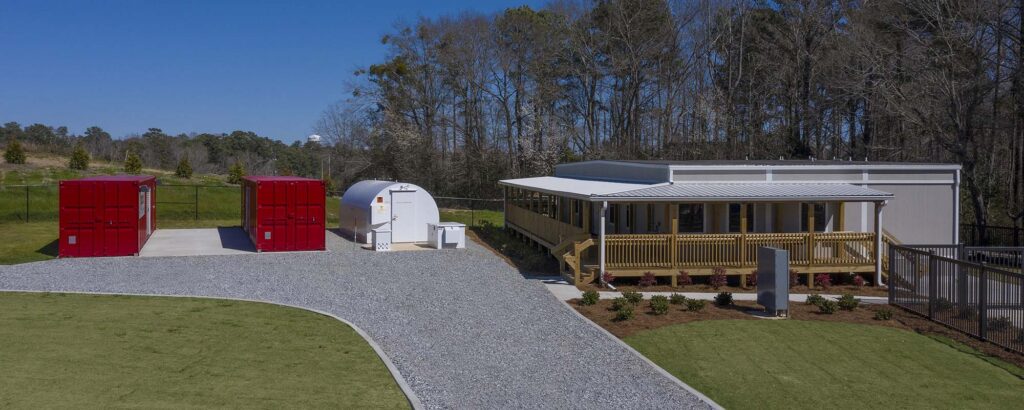 At Auburn University in Alabama, Robins & Morton built another facility that provides pragmatic experience for students. The new Robins & Morton Construction Field Laboratory serves students and faculty of the McWhorter School of Building Science and opened in fall 2020.
A first-of-its-kind facility, the laboratory creates learning and research opportunities through a combination of hands-on construction activities and formal classroom teaching. It  not only demonstrates the concepts of the curriculum but also provides vital field experience to students before entering the workforce.
"Part of the students' required curriculum [at Auburn] is a service-learning project… the idea is that the students can plan their work and simulate, as much as you can, a real construction environment," said Thompson. "They can use the Field Lab as a place to stage their materials and even prefabricate some things… It's a big deal."
A Lasting, Positive Impact
Robins & Morton's commitment to education has provided, and continues to provide, state-of-the-art teaching facilities for students and faculty across the country. The finished buildings strengthen curriculums and campuses while supplying invaluable learning opportunities for students. However, at the end of each project, construction team members always have an unmistakable sense of pride, knowing that they made a difference in the countless lives the buildings' programs will touch.
"As a building science student, I would have never dreamed that I would have the opportunity to work on campuses like Auburn University," said 40-year construction veteran and Robins & Morton Senior Vice President Phil Yance. Yance oversaw nearly all of Robins & Morton's education work at Auburn University—his alma mater.
"For Robins & Morton to have a large role in the construction of such important facilities and for me to be able to tell my children and grandchildren that we built those, it's an incredible feeling."