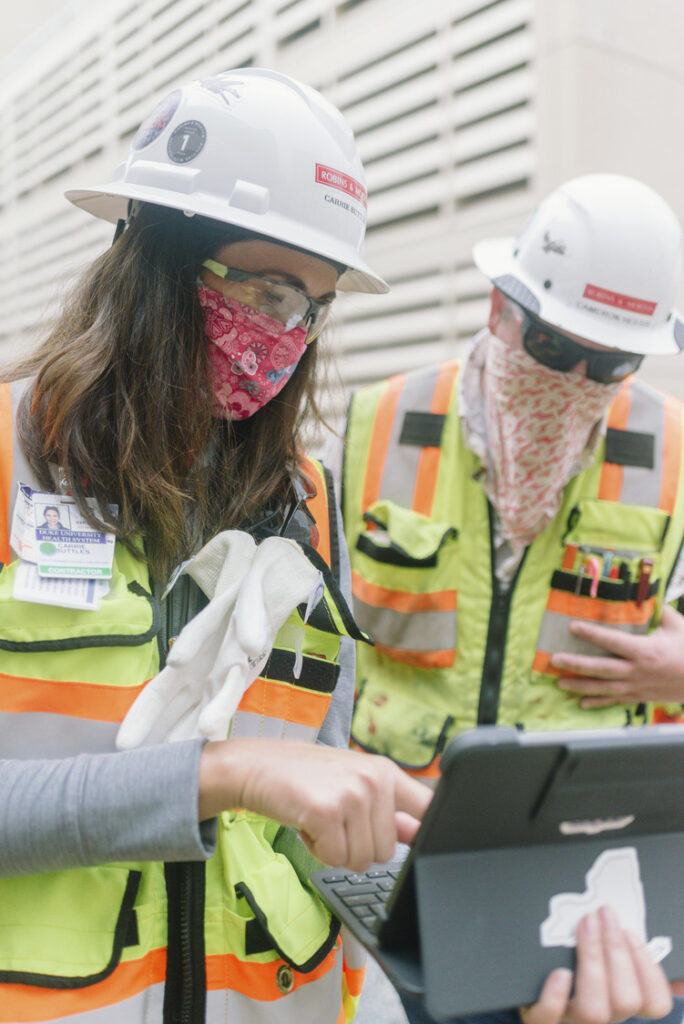 Around six years ago, the Robins & Morton team in Durham, North Carolina, ran into a problem. While keen to hire locally within the communities where they build, the two senior project managers were faced with a shortage of employees with traditional construction backgrounds in the Durham area.
"There wasn't a surplus of people, and it was a necessity to staff this project," said senior project manager Michael Dare.
As the saying goes, necessity is the mother of invention, and Dare and fellow senior project manager Pat Hickert decided to try something unconventional. They pursued applicants without construction education or experience specific to large, commercial construction, but who possessed relevant career skills. Dare and Hickert bet that, with on-the-job mentoring from experienced construction professionals, those nontraditional hires could succeed on the jobsite. The two brought on significant number of nontraditional hires, and the experiment worked.
"We've got work to do. And we've been fortunate enough to find people we could put in a position who, with an experienced person next to them, get them started," Hickert said. "They didn't have to have traditional construction skills; with the life skills they have, we can pair them with experienced personnel and it's worked."
The experiment proved that recruiting from nonlinear career paths can help address the industry's workforce shortage, while providing fruitful career opportunities. Dare and Hickert's hires have not only stayed with Robins & Morton but have grown significantly within the company with promotions to management roles.
"It starts with having an open mind," said Hickert – who, with an English degree, said he is a bit of a nontraditional hire himself.
The story of assistant project manager Carrie Buttles is one that Hickert often uses to demonstrate this point.
"Carrie has a lot of drive, and an otherworldly ability to connect with people and get things done," Hickert said. "She brought a great deal of skill to our team, and we needed that. She's done wonderfully."
Buttles' background is in accounting and, though she hadn't previously worked in construction, her astute ability to structure, organize and regiment systems has proven beneficial in her role with Robins & Morton. She said that being a nontraditional hire was a challenge that made her want to work even harder to be her personal best.
"[I had a] 'Watch, I'll show you I can do it' mentality to go out and do the job just as well," she said.
She wasn't afraid to, in her words, "ask a million questions," and said the willingness of her teammates to help her learn was the key to her success.
"It is really important to have the support of your teammates out here," Buttles said. "They were so willing to help me."
Field superintendent Eric Schanda said that, from the top down, Carrie experienced a jobsite learning culture that is constantly committed to growth and improvement amongst team members.
"We have the mentality of, 'We're not going to let you fail,'" he said. "We get a lot of that support from the team here. We're not afraid to ask questions and teach each other, and we do that really well here. When you're teaching nontraditional people, you have to be willing to do that, or you'll fail."
Schanda pointed to prior careers in the military as a great feeder for work in construction. Team members including Field Superintendent Hans Beutel and Field Engineer Jon Rowell are textbook examples of taking skills learned in the military and translating them to productive construction careers.
"We can teach [someone] how to build, read prints, and fill out RFIs," Dare said. "But we can't teach them how to work with people or have the drive to complete a task. Their outlook on the world outside of construction brings in different experiences; they have skills in other enhanced areas we wouldn't primarily get."
As available workforce continues to be scarce, this is a practice that Dare and Hickert plan to continue. The backbone to success, Dare said, is proper training and establishing a team culture and dynamic that supports one another exponentially.
"When you have a culture and a team that understands that and is willing to put in the extra time and effort, it pays off in dividends," he said.