Man. Organize. Train. Equip. Lead.
These are the guiding objectives the United States Army uses to achieve their mission and their vision. Through expansion, planning, discipline and innovation, they stand ready to defend the nation's freedoms.
Robins & Morton began working with the U.S. Army Corps of Engineers (USACE) more than a decade ago, completing projects that range from on-base facility upgrades to training centers to entirely new healthcare facilities. Over the years, the company has engaged in more than 80 projects for the USACE across sixteen states.
"In every opportunity we have to work with our military service members, we are in awe of their commitment and dedication to our country," Robins & Morton's Government Services Division Project Director Nick Dill said. "It's important to us to do our part in constructing quality buildings for healing, training, or gathering so they can focus on carrying out their missions."
This year, Robins & Morton is working on some of our largest, most unique projects with USACE to date. Check out the project features below to get an inside look at how Robins & Morton is serving the military through the efficient construction of facilities that support servicemen and servicewomen on and off duty.
Fort Sill, Bleak Troop Medical Clinic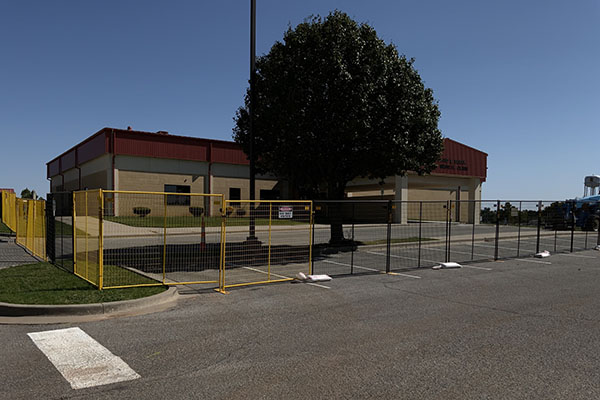 Like many military bases, Fort Sill, Oklahoma, is known for a specific area of combat instruction, and its particular expertise is artillery training.
To support the base renowned for its Field Artillery Training Command, all healthcare is housed under the Reynolds Army Health Clinic. The campus includes outpatient services, advanced rehabilitation, emergency services and more. As a part of this wellness network, the Bleak Troop Medical Clinic is a critical source of urgent care for students on base.
In late 2019, the USACE awarded Robins & Morton the contract to completely renovate the 18,000-square-foot clinic, but there was a catch – daily operations had to continue without interruption.
To accomplish this, the Robins & Morton team devised a detailed phasing plan that included utilizing a 17-unit transitional space to ensure healthcare services could continue while the renovation moved forward as quickly as possible. After completing the transitional space buildout in September 2020 and moving healthcare services into their temporary spaces, the team began demolition on the Bleak Troop Medical Clinic on Oct. 5. Renovations will begin in the coming weeks.
Once complete in fall 2021, the updated facility will feature 30 exam rooms, a pharmacy, lab testing, a new x-ray, and physical therapy and office support spaces. Architect Sherlock, Smith & Adams, Inc. designed the facility to meet LEED certification standards and Robins & Morton is utilizing green building practices and materials throughout construction.
Fort Rucker, Training Support Facility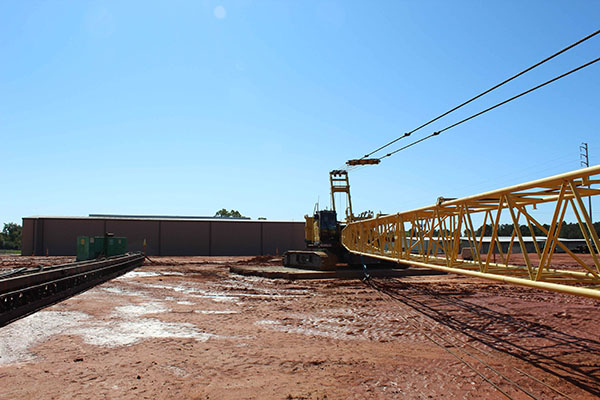 In the Southeastern corner of the state, Fort Rucker, Alabama, is the headquarters for U.S. Army Aviation. Sprawling across 63,000 acres of the Wiregrass Region – named for the long-stemmed grass native to the area – the base functions as a small city with its own infrastructure, healthcare, education systems and more.
In 2019, the USACE selected Robins & Morton to build a new training support facility at Fort Rucker. The $33 million project would include a two-story structure to provide clear-span maintenance areas for multiple aircraft parts simultaneously. It would also house environmentally controlled training and storage space for decommissioned and historic military aircraft, weapons and other artifacts. Within the training spaces, the design features classrooms, conference areas and a library. In addition to the facility itself, the scope included sitework such as underground utilities, paving, access roads, storm drainage, site lighting, site improvements, landscaping, underground communications infrastructure, and all applicable Antiterrorism/Force Protection (AT/FP) measures.
Located adjacent to the existing Army Aviation Museum, the 136,000-square-foot project's intention is primarily historical training for soldiers and it will display the evolution of aviation equipment, weapons and uniforms.
Since receiving the contract, Robins & Morton's onsite team contended with a temporary project delay, battled two hurricanes and navigated tremendous amounts of rainfall.
Currently, the team is installing the building's foundations with structural steel erection beginning in February 2021. Steel will complete at end of summer 2021 and the project is projected to complete in early 2022.
"When I look around at all we've been able to accomplish through this partnership over the last 10 years, it's humbling," Dill said. "We're honored to be entrusted with the incredible responsibility of serving those who serve us all."