An innovative technology strategy at the Carilion Roanoke Memorial Hospital project in Roanoke, Virginia, is not only contributing to cost and time savings, but it is also increasing collaboration and building stronger relationships among the Robins & Morton team, the architect, trade contractors, the client and hospital staff.
Robins & Morton Senior Superintendent Bill Stevens arrived onsite with a vision to incorporate cutting-edge technology into every element of the 500,000-square-foot, $342 million campus expansion project. With the help of the company's innovative support and information technology (IT) teams, the onsite Robins & Morton team worked to establish and implement a technology plan that would amplify quality management, collaboration and client satisfaction.
Although the project will be in progress until 2025, the team's technology plan has already generated creative solutions. These include an immersive Virtual Design and Construction (VDC) room and the incorporation of virtual reality (VR) mockups during design, resulting in nearly $400,000 of true cost savings.
Virtual Reality Mockups
The project team pushed the boundaries of traditional mockups by expanding the use of VR during design.
Unlike traditional mockups that are typically constructed with temporary materials, which can be costly and time consuming, hyper-realistic VR mockups immerse the user in a true-to-life space, allowing them to fully experience and interact with the design of various hospital spaces. Going beyond typical digital mock-ups that rely on generic representations, the high-fidelity, gaming-level representations use cut-sheet data and are modeled to all specifications, including equipment and finishes.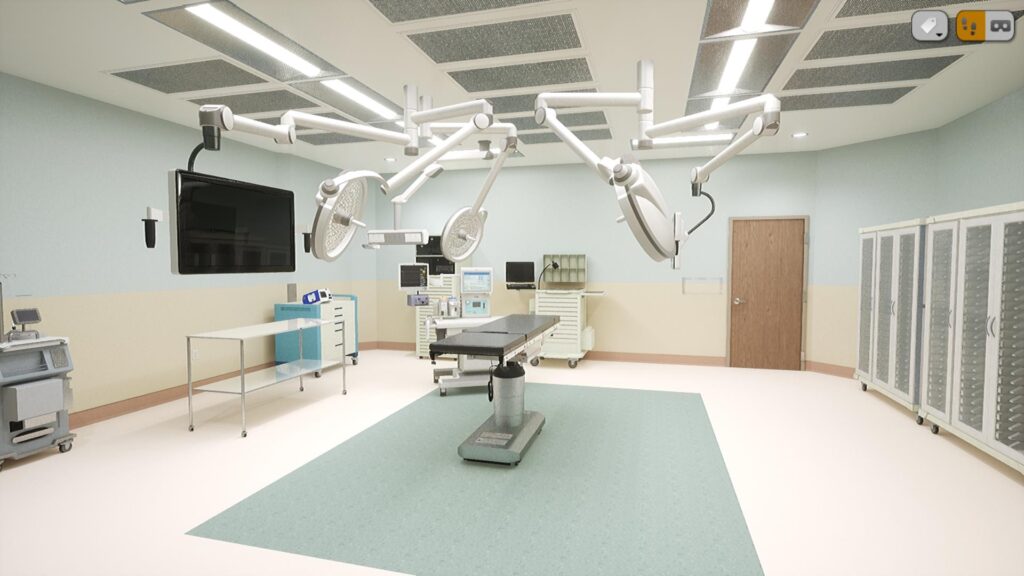 "The quality of these VR mockups is well beyond the level of detail you see using other tools," Manager of Innovative Support Steve Moore said. "In many ways, this was even more realistic than a traditional physical mockup."
Robins & Morton collaborated with Earl Swensson & Associates (ESa), the project architect based in Nashville, Tennessee, to develop initial VR mockups for user group working sessions during preconstruction and design. Robins & Morton and ESa set up four VR headsets and invited the client and hospital staff to experience the mockups and provide feedback on the design. After experiencing the VR mockups, participants were asked to scan a QR code which would take them to a digital survey used to capture feedback in real time. The survey allowed each user to tag comments on 2D images of the spaces modeled in the VR mockups. All feedback was then reviewed by Robins & Morton, ESa and the client to determine which comments could be incorporated into the next design iteration. As an added benefit, design collaboration could be accomplished without everyone traveling to a physical mock-up location.
Through approximately eight user group working sessions and design iterations, more than 100 comments were considered when improving the design. This mitigated numerous problems before the construction process even began.
One example included the placement of headwall units. Nurses participating in the user group working sessions noted a monitor on the headwall unit was originally mounted too high. While in the VR environment, many nurses could not reach the monitor and they were also concerned that its position may interfere with ceiling-mounted IV cable tracks. Based on the nurses' feedback, the monitor was relocated to a lower and more appropriate position.
The VR mockups were so well received that the client decided to eliminate physical mockups completely, significantly reducing material and labor costs. The decision to fully embrace VR mockups resulted in nearly $400,000 in true cost savings for the client, as well as time saved more effective design iterations.
The collaboration facilitated by the VR mockups also strengthened communication and relationships among the Robins & Morton project team, architect, trade contractors, client and end users. Using technology as a bridge between builders and end users has been an impactful experience for Moore.
"It's been a big learning experience. I've never learned so much about what makes an OR function or a hospital work," Moore said. "We're gaining a significant mutual understanding amongst all of us that never would have happed otherwise."
Exemplifying the value of utilizing VR mockups in user group working sessions, Moore recalled meeting with the anesthesiology department where end users provided critical feedback regarding the placement of equipment related to a patient's position on the operating table.
Robins & Morton is also exploring innovative ways to leverage the VR equipment to conduct multi-trade MEP reviews and fully simulated patient experiences, from admission to post-operation.
From an operational standpoint, the mockups created a foundation for more widespread use post-construction. The Robins & Morton technology team is now working with Carilion Clinic's Human Factors department to explore using VR mockups to improve observation and data gathering in workflow studies of spaces with major touchpoints, like operating rooms.
Because the team is always looking toward the future, they've already established a new goal: finding an effective way to network computers together so that users can interact with one another inside a single virtual space. They believe that sharing the experience together will provide more reliable data and opportunities for improvement.
VDC Room
Robins & Morton's innovative technology strategy did not stop at VR mockups. Having seen the value of VDC's preconstruction models at previous projects, Stevens charged Moore with creating a "VDC room" for the Carilion Roanoke Memorial Hospital project.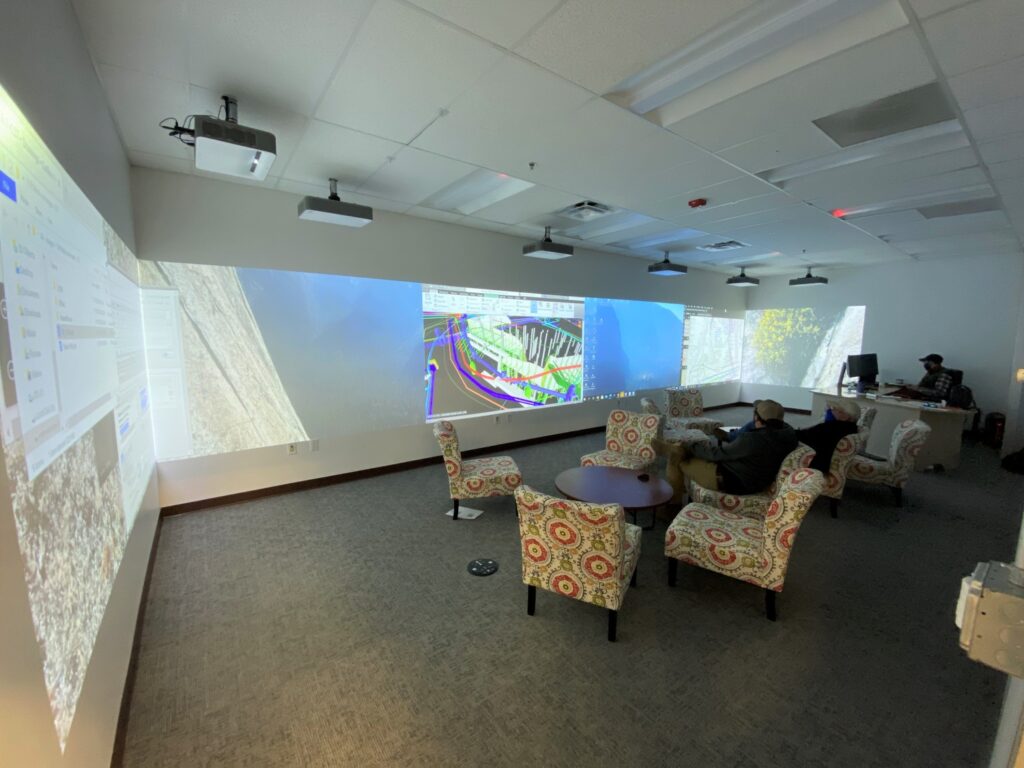 Moore's vision was for an immersive, collaborative experience—much like the VR mockups—where project team members could work together within the model. Breaking the mold of traditional meeting spaces, Moore set out to design a "living room" style space, complete with comfortable couches, chairs and coffee tables, where users could gather and feel comfortable sharing and brainstorming.
After creating a preliminary sketch of the soon-to-be VDC room, Moore worked with onsite Robins & Morton Field Service IT Technician Jimmy Jennings to determine a solution that was both technically- and cost-effective. Jennings is part of Robins & Morton's Jobsite Engagement Team, an initiative within the IT department to provide field teams with turnkey solutions specific to their project needs. With a series of connected 4K ultra-short-throw laser projectors, Jennings brought the idea for a cutting-edge meeting space to life.
Unlike traditional projectors, laser projectors can run for extended periods of time, enabling anytime use of the VDC room.
While Stevens initially envisioned the space to be used primarily for conversations surrounding the virtual model, the project team has discovered new uses for the space, hosting various creative discussions within it. The multi-projector setup allows for flexibility—teams can either create a fully immersive virtual model experience or simultaneously project various content including presentations, 3D models, jobsite cameras, drawings and schedule.
The VDC room at Carilion Roanoke Memorial Hospital exemplifies the potential for innovative technology to be a valuable collaboration tool, implementing it to solve problems and serve a mission-critical purpose. It also exhibits the value of empowering team members to leverage their individual skills and talents to achieve a goal. Stevens brought the idea, Moore brought the vision, Jennings brought the know-how and together they created a space that encourages innovative thinking, collaboration and vulnerability for the betterment of the project.
An Innovation Incubator
Moore, who works with project teams to help identify value-adding technologies, sees the Carilion Roanoke Memorial Hospital as a technology incubator and proven test-case. He predicts that its success in implementing innovative technology will pave the way to expand the effort to future projects.