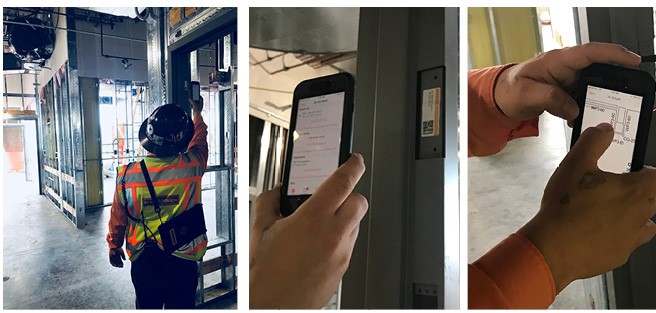 It's common for changes to occur on plans and drawings for any construction team, which can make keeping up with finished schedule, layout, and mechanical, electrical, and plumbing (MEP) coordination a challenge. At the Halifax Health Deltona project in Deltona, Florida, the construction team has incorporated an easy tech fix to help everyone from the field engineers to project management team to trade partners.
Procore, construction-specific project management software, allows you to upload information for each location in a project and apply a Quick Response (QR) code, which can be printed on labels and then attached to doorways. A QR code is a barcode that's scannable with a smartphone or tablet. The QR code was initially meant for improving inventory control, but a code can attach to a variety of data.
In Procore, a project team has the option of attaching specific data, such as punchlists, RFIs, observations, inspections, and submittals to a location QR code. What the Robins & Morton team at the Halifax Health Deltona project noticed missing was an option to attach snapshots of the drawings to each location. So, they created the functionality themselves with a workaround. They took individual screenshots of each room from the drawings and attached the images in PDF format to a punchlist item. The innovative approach was even heralded by the Procore account manager.
The construction professionals at the Halifax Health Deltona project who need access to updated drawings only need to pull out a smartphone or tablet, scan the QR code, and instantly they get a copy of the current drawings for that particular room. This small technological advance is helpful for all the different members of the project team.
Specifically, the shortcut has been a game changer for trade partners, who previously had to get a copy of bulky drawings, and then dig through them to find each room and its related information. Each team shared one set of drawings, and had to constantly check on whether the right color of paint was going in the right room, for example. It meant a lot of back and forth and questions.
Procore and QR codes for room layout and finishes has increased efficiency and minimized mistakes. Now a trade contractor can scan the QR code for the room that needs work or maintenance and immediately see what's required. If a change is made to drawings that day, it's updated within Procore, which means everyone in the office and field are aware as soon the change is made.
Field engineers and laborers can easily scan a Procore QR code at the Halifax Health Deltona project to see punchlists for each room, along with due dates, safety, quality assurance-quality control (QAQC), inspections, and more. As tasks are completed, information is updated in the cloud-based software, so everyone stays on the same page.
As end users, such as doctors and nurses of Halifax Health Deltona, walk the site for a tour of the ongoing project, a superintendent or project manager can scan the QR codes at each doorway to show them what they need to know. For example, you can show them a plan or elevation view of each space, which helps them visualize what the finished room will look like.
The same goes in a site walk for an owner's representative. A scan of a QR code can bring up information, such as RFIs, observations, inspections, and punchlists. If an owner's rep asks about damper inspections, a construction professional would be able to answer on the spot in the field.
Set up for Procore's QR codes for a six-story bed tower, like the Halifax Health Deltona project, took a couple days. Front-loading the locations in Procore is the most time-consuming part of using QR codes. As punchlist, observation, and inspection status changes for a location, or room, that information is recorded in Procore, and the location QR is updated.
Procore's location QR code tool is a popular modernization of floor stenciling. It's easier to implement, manage, and access everything each member of the project team needs.