At a time in the AEC industry where workforce challenges are ever-present, there have been several efforts that have proven most effective in recruiting top talent into the industry, one of which is mentorship.
A program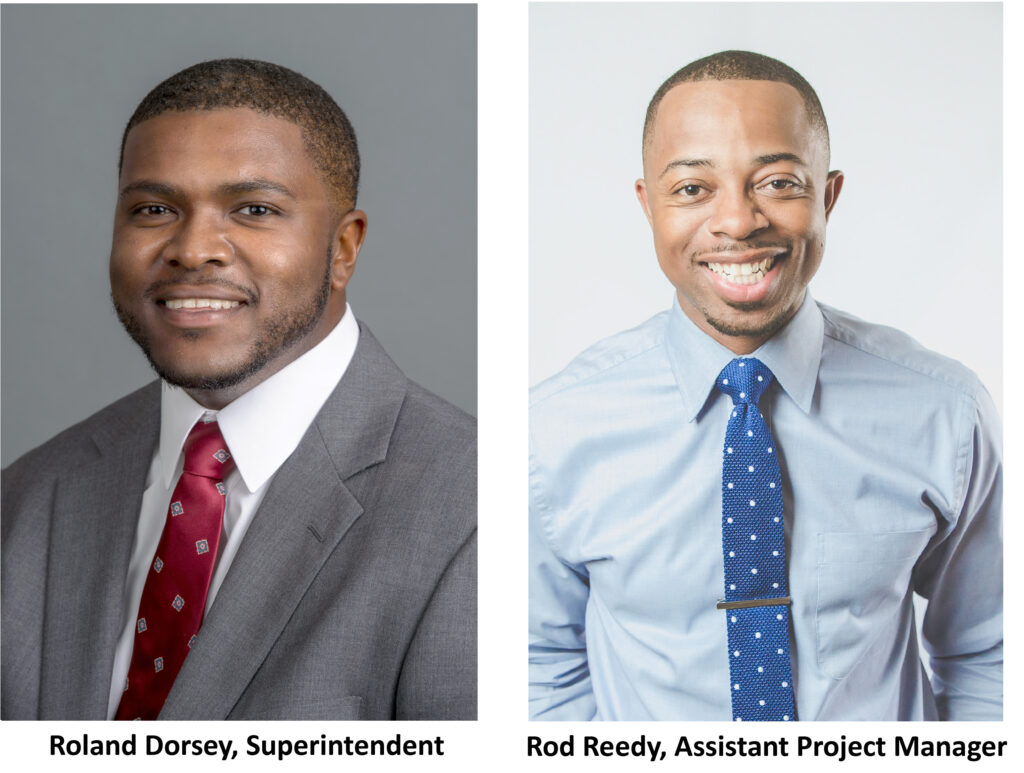 that has been particularly successful in attracting the interests of young people on a national level is the ACE Mentor Program of America. Through local affiliates, ACE pairs high school students with industry mentors to expose them to the real opportunities within careers in architecture, engineering and construction. ACE also works to create scholarships and grants to financially support the continued study and success of graduating seniors in the program.
On Thursday evening, seniors from the Greater Birmingham, Alabama, area graduating from the ACE program gathered at the Alabama Power Headquarters downtown to attend the annual ACE Scholarship Banquet. There, they celebrated their achievements, shared their future plans, and announced the recipients of continuing education scholarships.
As former graduates of the Birmingham-area ACE program, Robins & Morton Assistant Project Manager Rod Reedy and Superintendent Roland Dorsey were invited to speak to the students about the impact of the program on their careers. We caught up with Reedy and Dorsey to get their thoughts on the importance of these programs in communities and how they are working in tandem to solve a nationwide workforce crisis.
Q: Where did you go to high school and tell me about your introduction to the ACE program?
Rod: I attended Ramsay High School to complete all four years of my high school education. During my freshman year, [Senior Project Manager] Nick Dill of Robins & Morton visited Ramsay to introduce the ACE Mentor Program to students interested in the architecture, construction and engineering fields. When I heard this, I quickly expressed my interest to join.
Roland: I'm a 2007 graduate of Ramsay High School. I first learned about ACE through a classmate my junior year of high school, but it wasn't until my senior year that I decided to attend a meeting.
Q: How do you think the next step of your career journey would have been different without it?
Rod: Many students enter college completely confused about what they want to study. As a result, more time and money is spent figuring that out from taking classes, then switching majors and taking more classes. I think I would have experienced some of that if I didn't have ACE. Additionally, I would have never known about Robins & Morton or the people that worked there who I've grown relationships with. These people are the reason I learned about Auburn University and applied there as a junior in high school.
Roland: There is no telling what my next step would have been. I always preferred math and science courses but I didn't have an idea of which route to go. Through ACE mentoring and learning about different disciplines I decided to pursue Civil Engineering at Auburn University.
Q: Why are programs like ACE important to spark interest in the AEC industry?
Rod: Exposure is the key that opens doors of opportunity for all of us. Without ACE, I wouldn't have experienced the much needed exposure to the industry that led me to where I am today. So many kids think that careers as significant as architects, engineers and construction managers aren't possible for them. ACE showed me that those opportunities are possible and showed me a route to reach my desired destination of becoming a construction manager. Additionally, within ACE, there's a three-way fork in the road where you have to pick your route – architect, engineer or construction manager. This program helped me understand that an architect wasn't what I wanted to be as I initially believed, but I was actually most interested in construction. For these reasons, programs like this are vital, especially in areas and communities where the awareness of these career opportunities are unknown.
Roland: The AEC industry isn't in the limelight so not everyone hears about it. Most of the time if you ask a child what they aspire to be when they grow up, you hear doctor, lawyer, sports star, or pop star. No one talks about the people that design and build the venues to make these professions possible. The AEC industry is truly a behind the scenes profession.
Q: Did you have the opportunity to chat with some of the graduates at the event on Thursday night? What were some of their plans for the future?
Rod: Yes, I did have an opportunity to chat with some of the graduates at the event. Many of them are attending college to pursue degrees within the AEC industry. One of the students is attending [The University of Alabama in Huntsville] to obtain a degree in Civil Engineering and I plan to keep in touch with him throughout his time there.
Roland: I did, I got a chance to talk to a few students and their parents, as well. It was exciting to hear all of the graduating seniors are pursuing higher education in the AEC field in some form or fashion.
Q: Even outside of AEC programs, do you think it's important or impactful for high school students to get involved with career mentoring? Why or why not?
Rod: Yes, yes, yes! It is so important to minimize unforeseen issues and maximize opportunities for success. This is done by, as previously stated, exposure. Career mentoring is this exposure. It is necessary to walk these students to a place of opportunity. When they are released into the world and presented with these career opportunities and choices, they will have a mental compass to guide them along the way. Blindly walking upon a path, especially with careers, is not a wise option to accept and this can be prevented with career mentoring.
Roland: Absolutely! Everyone needs a little guidance with making such a huge decision. [Mentorship programs] can help determine if a career path is truly what you are passionate about or if it's time to reevaluate. It's always good to have someone you can talk to.
Q: What should we be doing as an industry, in addition to engaging with mentoring programs, to help with our workforce challenges?
Rod: With ACE, the involvement in the Academy of Craft Training program, and ABC of Alabama, I think we are doing a great job to help with the workforce challenges for those that desire college degrees and those that desire to be skilled tradesmen and tradeswomen.
Roland: I think informational sessions at local high schools can help. A lot of people just don't know about the industry. I'm sure there are a lot of people that would be interested in it if they only knew about it. Exposure is key.
Q: If you could give one piece of advice to the graduates, what would it be?
Rod: Ask questions until people ask you to stop. Whether you know it or not, people love to share their knowledge with those desiring to learn.
Roland: Remain persistent and keep a positive attitude. Undergrad will have its own set of new challenges and you must remain persistent to get to the finish line. Keep a positive outlook even in dire times, you can make it through.
Pictured in the header (from left to right) Robins & Morton Superintendent Roland Dorsey, Senior Project Manager Ashley Dyer, ACE Scholarship Recipients Jacob Pugh and Mya Alston, Assistant Project Manager Rod Reedy, and Vice President of People and Development Aimee Comer.