Once dismissed by skeptics as a risky idea destined to diminish construction quality, prefabrication is now universally embraced as an industry best practice. Companies in all building sectors are investing in it, clients are intrigued by its savings potential, and the field staff is integrating it in ways that will forever change the traditional supply chain in construction.
Perhaps the biggest surprise is not the embrace, but a promising second-layer of benefits we see taking hold. Most everyone knows about the initial benefits: reducing work and disruption at the project site, improving safety and quality by shifting work to a controlled production environment, and enhancing schedule efficiency. Emerging today is a new playbook that redefines the future value equation for owners and their building teams.
Surgical Precision in Mechanical, Electrical and Plumbing (MEP) Infrastructure
Anik Patel, MEP Manager for the East Campus Bed Tower project for Baptist Health South Florida, describes this forward-motion evolution. "When prefabrication was first adopted, the assumption was that it worked primarily on cookie-cutter projects where a single trade is involved or when similar functions are stacked one on top of the other," he said. "That premise is no longer true. We are learning with our prefabrication of complex, multi-trade mechanical, electrical, and plumbing systems for hospital buildings provides greater discipline and precision."
Patel and his colleagues on the Baptist Hospital of Miami campus are continually adapting cross-discipline prefabrication to use for highly complex environments and applications.
"You need to have the right mindset to expand the possibilities," Patel reports. "One absolute essential is a collaborative team with the right design and craft partners working together early on to commit to a new, more beneficial approach."
At Baptist Hospital, the team is overseeing the offsite manufacturing of conduits and piping that will convey medical gas, electricity, data power, nurse call technology, and dialysis systems to patient rooms. Six trade partner firms are working together with Robins & Morton to plan and develop the layered 3D BIM model. Prefabricated patient room headwall units, the central end point bringing the utilities and technology to patients and caregivers, are built in a controlled environment and shipped to the Baptist Hospital project site for installation.
Easing Workforce Shortages
With demand for skilled labor challenging the entire building industry, every innovation that helps reduce the shortage is a plus. A prefabrication and offsite production strategy can help mitigate the stress.
How? Ask Kevin Robinson, Operations Manager for sheet metal contractor Tech Air. His first projection for craft workers needed onsite for the $256 million Shawn Jenkins Children's Hospital and Pearl Tourville Women's Pavilion at the Medical University of South Carolina (MUSC) in Charleston was 85 at peak.
Whe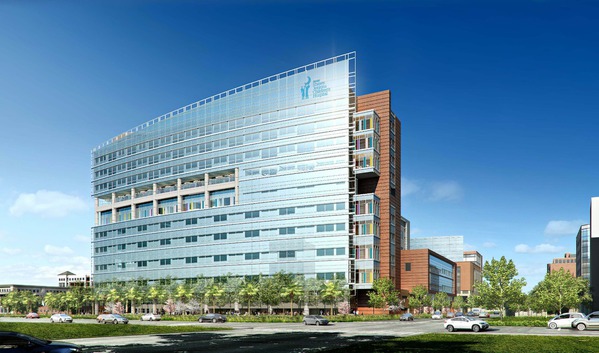 n MUSC and Robins & Morton committed to offsite prefabrication, Tech Air's projection for peak staffing went down to 58, a reduction of more than 30%. The MUSC project team's offsite strategy –conceived initially to offset the impacts of building on a small, congested urban site – involved leasing an 80,000-square-foot warehouse for offsite construction. Over the course of the project's construction, ten trade partners were engaged at the "second jobsite" in prefabricating, testing, and shipping the assembled components to the site.
On the sprawling urban campus of the Medical University of South Carolina (MUSC) in Charleston, an integrated team of designers, builders, specialty contractors, and MUSC staff are completing a $255 million hospital project that illustrates a new era in planning and building capital construction projects. Ten trade partners prefabricated the building's components within the controlled environment of an 89,000-square-foot warehouse located 16 miles from the project site.
Front-to-Back Supply Chain Control
Experiencing the benefits of offsite prefabrication reveals the inherent inefficiency of the traditional supply chain in construction. This efficiency challenge is an ideal scenario for creative, Lean solutions. One of the advantages of Lean principles as applied in manufacturing is the ability to reset the supply chain to extract redundancy and eliminate wasteful practices that slow production or diminish productivity.
"The prefabrication opportunity that I see is to finally achieve the full extent of established Lean principles and practices," said Steve Wiley, a Robins & Morton Senior Project Manager currently completing the MUSC project in Charleston. "Developing a front-to-back system to manage the purchase, delivery, fabrication, quality control, and just-in-time delivery of the materials and components that go into a large hospital project is a huge step forward. The ability to integrate prefabrication with our BIM modeling and 4D scheduling offers all our team members a truly-integrated Lean process we could only imagine in the past."
Improved supply chain control also offers greater flexibility to manage the volatile shifts currently seen in building materials cost and availability. Prefabrication, when delivered as part of a Lean project approach, provides longer lead times for purchasing. With the luxury of more lead time, teams identify more options and creative sourcing strategic in choosing materials and methods.
"Early cross-discipline collaboration on materials sourcing, especially the selection of key building systems and exterior envelopes, creates tangible outcomes for owners," observed Wiley.
Simultaneous, Choreographed Construction
When Duke Health initiated plans to build a new 250,000-square-foot patient tower on their Raleigh campus, hospital administrators realized they needed to significantly upgrade the capacity of the onsite Central Energy Plant (CEP) to provide the additional capacity required by the tower. An offsite, prefabricated solution offered several advantages, according to Robins & Morton Superintendent, Nick Jackson.
"Prefabrication allowed us to complete the site-related work including construction of the CEP foundations, slab, and surrounding utility support structure while the two-story CEP was simultaneously in construction offsite," he said. "This simultaneous initiative not only saved two to three months on the schedule, it also made it possible for us to complete underlying utility relocations without the working around obstacles that a CEP onsite construction effort presents."
Offsite fabrication of the CEP created several interrelated benefits and advantages. For Duke Health, the prefabrication decision and translated to significantly reduced construction project disruption. "Because the CEP was built offsite, our scope at the Raleigh campus was limited to assembling the premanufactured sections and integrating the utility connections," recalled Jackson. "Not only did this create a much safer and cleaner construction zone, it all but eliminated the everyday noise produced by a typical construction project."
Considering that the construction industry operated for centuries without the opportunities and benefits of prefabrication, the lessons of its implementation are still in the formative stages. The future is coming into a sharper focus, however, as the advantages forever change the status quo.
"I am convinced that during the next decade, the entire industry will move in this direction," Robins & Morton Senior Superintendent, Bill Stevens, predicts. "Once this happens on a large scale, people will wonder why we ever built the way we did for so long."