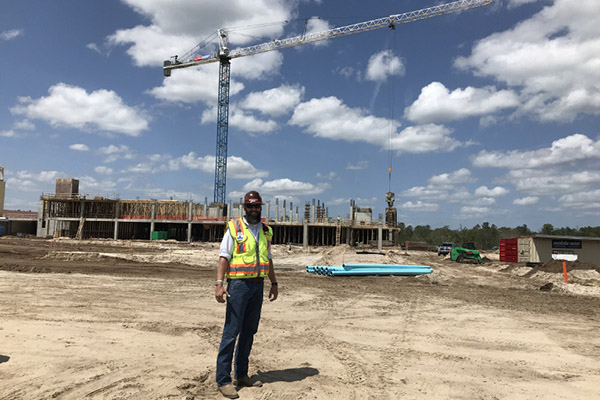 Growing up, Ryan Van Dyke thought he'd follow his family into the medical field. He'd always felt a deep calling to serve, and in his youth, he believed that the manifestation of that calling would be to heal others like his grandmother and father.
That was his plan when he began his freshman year at East Tennessee State University (ETSU) in Johnson City. But after beginning his classes, he found that the subject matter was a mismatch for the things he enjoyed. Instead, he found himself drawn to skills he applied when working with his grandfather – who was a brick mason – years before.
Acknowledging this realization, Van Dyke knew he was going to have to alter his path and decided to enroll in ETSU's Construction Technology program instead. Despite his change in course, his purpose remained ever clear. In this new line of work, he would still find a way to serve others.
After navigating coursework, co-ops, internships and his first job as an ironworker laborer, Van Dyke graduated in 2003, taking a field engineer position with Robins & Morton. That's when he made another important discovery.
One of his first projects was the Winnie Palmer Hospital for Women and Babies in Orlando, Florida, building both the hospital itself and the pedestrian connector to the Arnold Palmer Children's Hospital. Being on campus, helping to create an environment that would support the health of such a sensitive population made him realize that his career choice was one of service after all.
When building or renovating healthcare facilities, there are countless factors that can impact both current and future inhabitants – quality management, infection control, and facility layout, among others. Any day that he didn't give 100% could lead to challenges for the project or complications for patients.
Despite the weight of responsibility, perhaps the most fulfilling part of Van Dyke's job came when crews applied the last finishes, the client moved into their new space, and the community could now benefit from the building's new services.
The next project carried Van Dyke to Leesburg, Florida, in 2006 to perform a renovation and an expansion, then to Daytona Beach, Florida, in 2008 to build a 245-bed patient tower. Following that, he made his way to Miami for another patient tower project, but it was his arrival in Wellington, Florida, in 2011 that brought a new chapter in Van Dyke's career – he began to feel that he could be doing more in the workplace.
Robins & Morton's Wellington Regional Medical Center project was pioneering for the firm in many ways – often dubbed the company's first formal Lean construction project. There was already a heightened spirit of collaboration, transparency and teamwork in the air. For Van Dyke, this was just the kindling he needed to explore the more personal side to his working relationships.
It was at Wellington that he began establishing mentoring relationships with onsite personnel – helping them to create career plans and achieve personal goals. All the while, he increased his own personal knowledge surrounding Lean construction tools, culture, practices and philosophies, of which many focused upon the reduction of waste through the development of talent.
Through the years, Van Dyke grew in responsibility on the jobsite, which allowed him to further elevate mentorship efforts on his projects as he traveled throughout the state. Although Van Dyke developed unique relationships with everyone he mentored, he met someone in 2012 who redefined this dynamic for him.
George Butler was 19 years old when he first walked onto Van Dyke's jobsite, trying to figure out his path in life. Butler began as a laborer, but found that he not only enjoyed construction, he was also good at it. He had the unique skill of being able to visualize the flow of a project from start to finish. Van Dyke saw great potential in Butler and wanted to help him reach his goals – even the goals he didn't know he had yet.
After deciding to stay in the field, Butler wanted to work toward becoming a superintendent one day, like Van Dyke. By setting manageable, achievable targets with guidance from Van Dyke, Butler was able to earn his GED, enroll in night school, and gain several promotions in short order. Today, Butler is an assistant superintendent, well on his way to achieving his superintendent title.
A few sho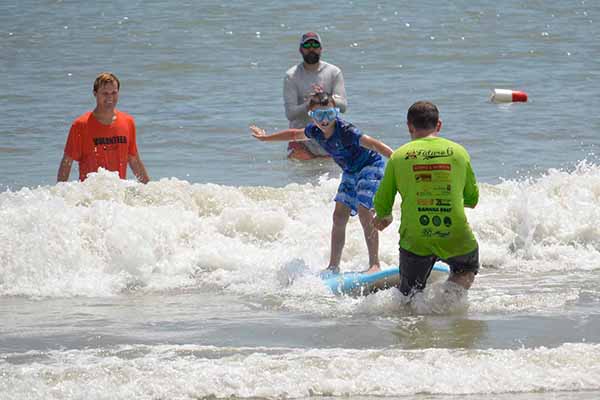 rt years later, Van Dyke also became a founding mentor in Robins & Morton's Rocky McMichen Field Leadership Program. The 15-month, hands-on and classroom training program was designed for the advancement of craft professionals and graduated its first class of nine in August 2018. His mentorship has assisted two trainees in graduating so far, and he continues his active role today.
Outside of work, Van Dyke also looks for ways to give back to the many communities he has been a part of throughout his career. This has resulted in numerous philanthropy and fundraising events, but his involvement in two organizations remains particularly close to his heart.
As an athlete and surfer, Van Dyke discovered Surfers for Autism – a 501(c)(3) nonprofit organization dedicated to embracing the healing power of surfing for individuals diagnosed on the autism spectrum – when he was living on Florida's east coast. He heard of a local event hosted by the organization and decided to bring his family as his oldest son has also been diagnosed on the autism spectrum. After attending, he found himself deeply passionate about their mission, often volunteering with events and organizing opportunities to provide sponsorships.
When he moved to Port St. Lucie, Florida, to build Tradition Medical Center's vertical expansion and renovation in 2015, he became involved with another local organization with a similar mission: Future 6 Helping Hand. This nonprofit focuses on ocean sports, as well, but also offers clinics in land sports like skateboarding. He volunteered with this organization while he was local to Port St. Lucie area, as well.
Van Dyke was fortunate enough to discover his purpose at an early age. Despite that knowledge, it has taken on many forms throughout his life – building to satisfy community need, mentoring, and giving back through organizations to which he feels a deep sense of connection. With many years ahead in his career, Van Dyke has laid a powerful foundation for a lasting legacy. Knowing this, Van Dyke continues to stay true to his course, pushing himself to lean further into that purpose and whatever form it may take next.
Robins & Morton would like to congratulate Ryan Van Dyke on his selection to Engineering News-Record Southeast's Top Young Professional's Class of 2020. Congratulations on this well-deserved honor, Ryan!